Latest News
21 November 2022
BigSis Closes Oversubscribed Series A at £4.5m
The round, led by Regenerate Ventures, enables BigSis to scale its proprietary automated production system for the 2023 commercial launch of its chemical-free SWD control solution.
See the press release for further details.
26 March 2022
Journal Insects publishes peer-reviewed article describing BigSis' Successful Trial of Chemical-Free Control of SWD
The journal Insects has published the article "Field Suppression of Spotted Wing Drosophila (SWD) (Drosophila suzukii Matsumura) Using the Sterile Insect Technique (SIT)", which describes our 2021 field trial. A big thank you to our collaborators NIAB EMR, Berry Gardens Ltd. and Clock House Farm plus the entire BigSis team. Read the article online here: https://www.mdpi.com/2075-4450/13/4/328.
Download the pdf article: Insects Article on BigSis Trial_Mar2022
29 November 2021
Press Release: BigSis Announces Successful Trial of Chemical-Free Control of SWD
BigSis achieved up to 91% suppression in its world-first open field trial to control SWD with sterile insect technique (SIT). We thank our collaborators Berry Gardens Ltd. and NIAB EMR and look forward to continuing the partnership, supported by our Innovate UK grant.
BigSis trials release - FINAL 29.11.21.pdf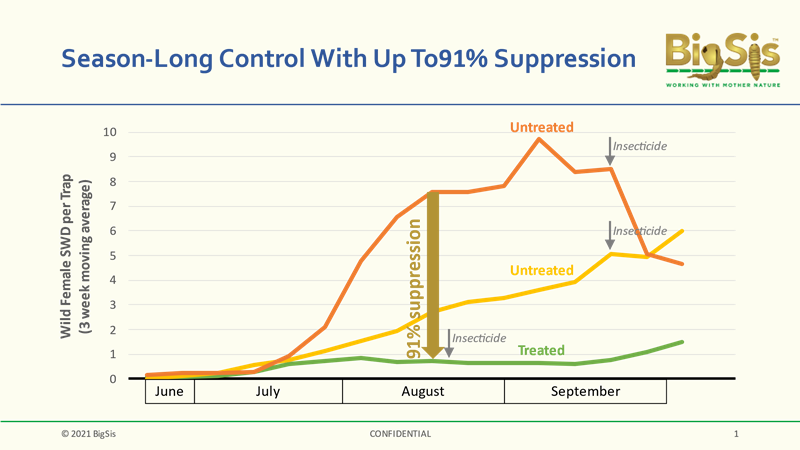 27 October 2021
Fourth Update on BigSis SWD Control Solution Field Study
14 October 2021
Press Release: BigSis Closes Oversubscribed Seed Plus Round at £1.5 Million
3 September 2021
Third Update on BigSis SWD Control Solution Field Study
22 June 2021
Second Update on BigSis SWD Control Solution Field Study
21 May 2021
First Update on BigSis SWD Control Solution Field Study
12 April 2021
BigSis Starts Field Study With Its Sustainable SWD Control Solution
Press Releases
22 January 2020
Agritech Venture BigSIS Raises Funding to Bring Farmers Sustainable Insect Control Solutions   PDF