BigSis solutions
BigSis sustainable insect control solutions are based on the proven and powerful sterile insect technique (SIT). Our season-long control service includes releases, so it is hassle-free and compatible with other integrated pest management (IPM) inputs. BigSis SIT solutions work preventatively, giving the potential for significant yield improvement; they are approved for sale in England and four USA states (WA, OR, CA and FL) so will be launched soon.
Spotted wing drosophila (SWD)
SWD is an invasive pest of high value soft fruit including strawberries, raspberries and cherries. The progressive ripening of these crops makes it difficult to treat with chemical insecticides. Growers are therefore additionally spending thousands of pounds per hectare on additional labour to harvest fruit more frequently.
BigSis is leading the world in bringing a farm-scale SIT solution to market to control SWD. Furthermore, our solution is non-GM and non-toxic as well as species-specific, so perfect for use alongside other biocontrols. It is already approved for sale in England and four USA states.
Our world-first field trial in 2021 was a great success, achieving season-long control and demonstrating up to 91% suppression of SWD. We treated a 7 hectare field of everbearing strawberries grown in open polytunnels in Kent, UK.
This year we are planning to repeat the trial  on strawberries and add trials on raspberries and cherries. A full commercial launch is planned for the 2023 season, with limited early adopter offers available in 2022.
For further information, see the press release and videos on our News page.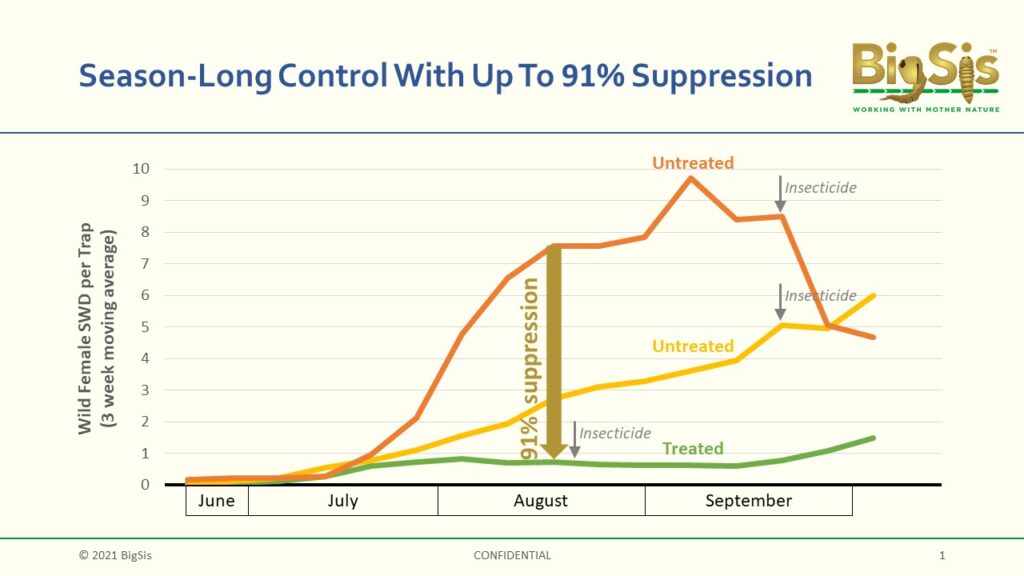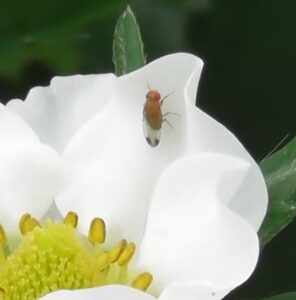 Codling moth
Codling moth is the principal pest of the 6.3m hectares of apples and pears grown worldwide. Currently only about 5,000 hectares are treated by SIT due to its relatively high cost.
The BigSis codling moth SIT solution is a 'super-generic' – we improve on currently available services in two ways. Firstly we release only males and secondly they have greater sterility. Both differences increase solution efficacy and boost the return on investment for growers.
We aim to conduct first field trials in 2022 and larger field trials in 2023 with a view to a commercial launch for the 2024 season.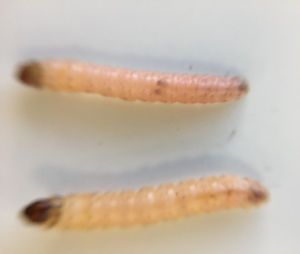 Future agriculture pest targets
BigSis automated sterile male insect production systems can be readily adapted from one species to another. So we will build a broad portfolio of solutions quickly.
BigSis plans to develop control solutions for olive fly (pictured), European grapevine moth, fall armyworm and many more. The light regulatory requirement for our environmentally benign, non-GMO solution ensures speed to market.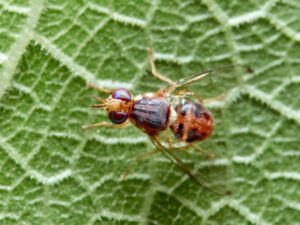 Mosquitoes
Around $5bn is spent globally to control the Aedes aegypti mosquito, which is the main vector of dengue and Zika. Over 40 species of Anopheles mosquitoes transmit human malaria; they caused 450,000 deaths in 2017 despite malaria prevention spend of $3.1bn.
BigSis SIT solutions to control these mosquitoes will be unique in their adaptability to sibling species.